Recommended for Constipation & Bloating Relief | Expert Consult | 60 Vegan Sachets for Men & Women
Regular price
Rs. 1,917.00
Regular price
Rs. 2,396.00
Sale price
Rs. 1,917.00
Unit price
per
Sale
Bid Farewell to Breakfast Bloating

Our carefully selected strains are designed to specifically address bloating, offering relief to those who frequently experience discomfort due to gas and swelling.
No More Hard Mornings in the Loo

For those grappling with constipation, this kit offers a solution to promote regular bowel movements, ensuring your mornings become more comfortable and hassle-free.
Morning Inflammation Management

Beyond tackling bloating and constipation, our strains work to reduce inflammation, contributing to your overall digestive well-being as you begin your day.
Consult with a Gut Health Expert

Get a consultation with Coach Gargi, Sova's Head Nutrition Scientist, to identify triggers, receive personalized food advice, and ensure your mornings start on the right foot.
Start your day with Gargi's "Good Morning Kit" with its remarkable "Double Action Bacteria." This unique kit combines the potent synergy of Biofidm and Lactobasilm bacterial strains, working in tandem to promote digestive health and make each morning easy and light! 
Share
View full details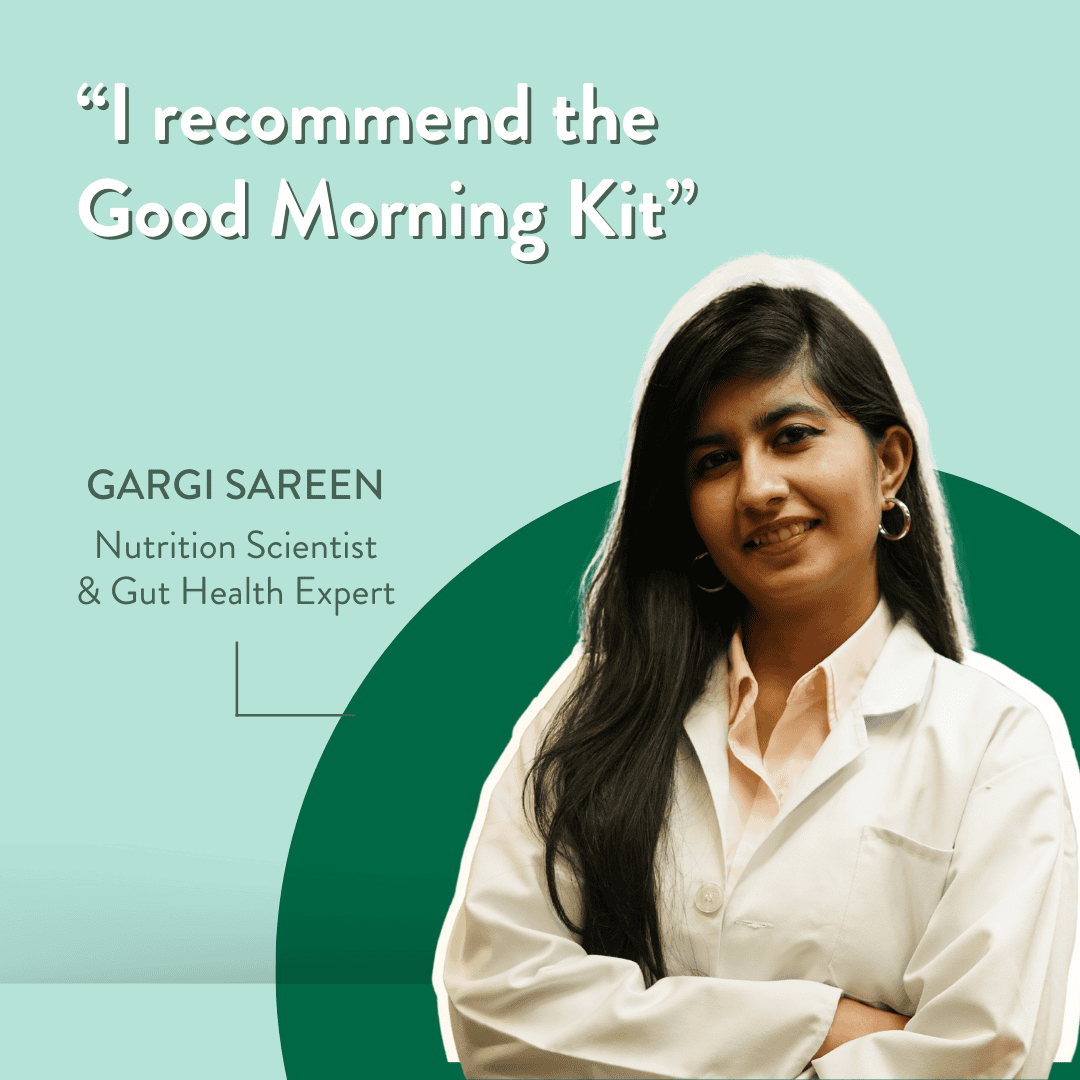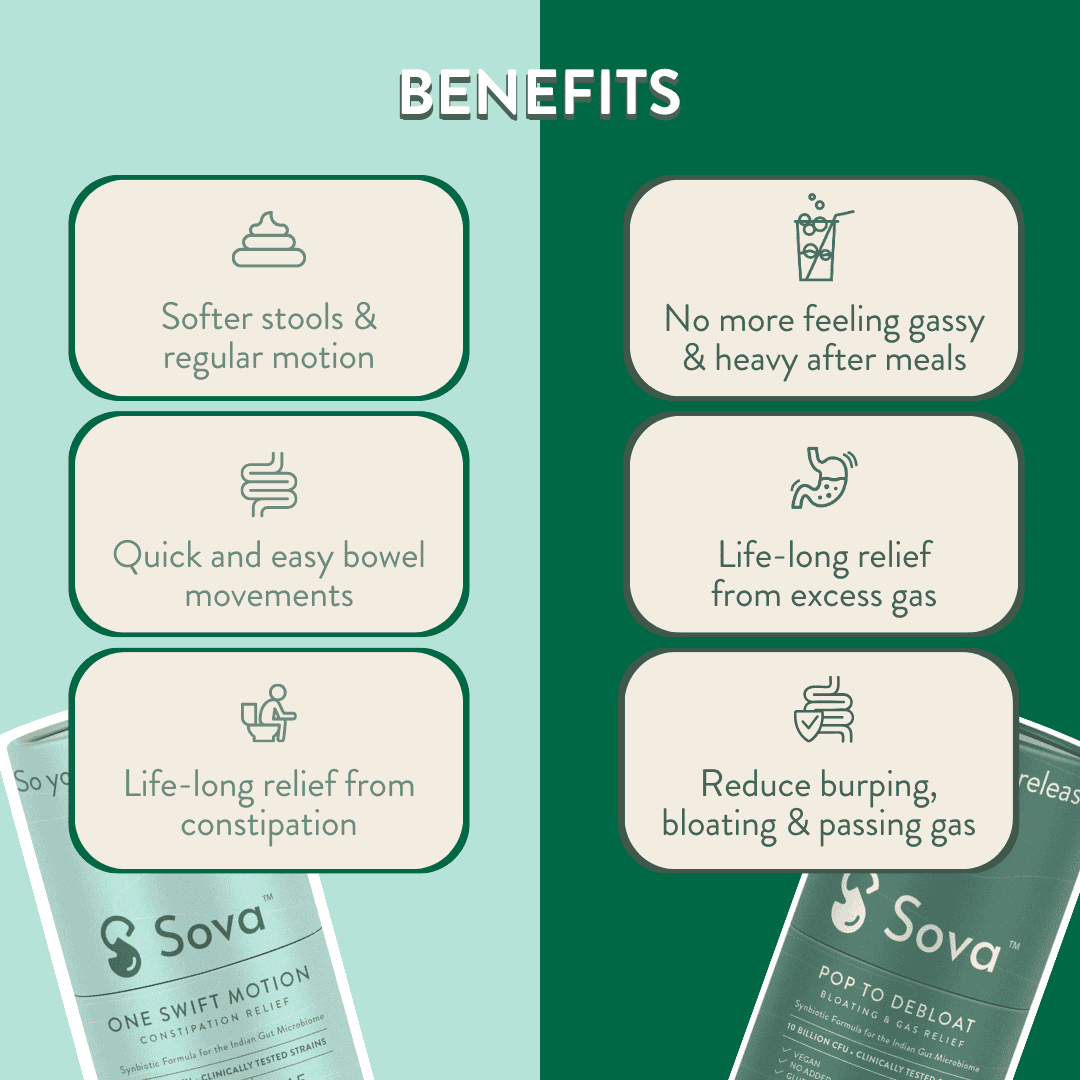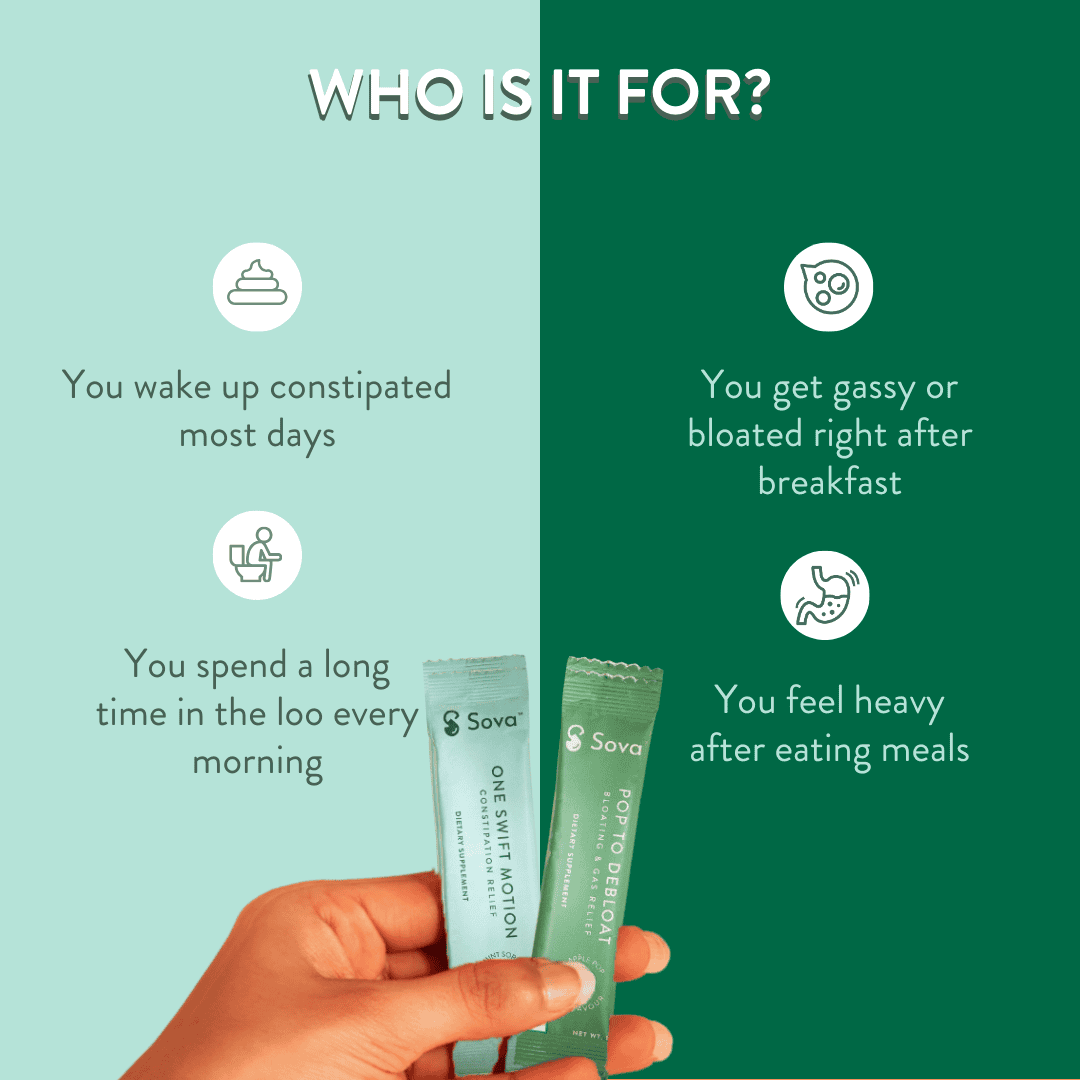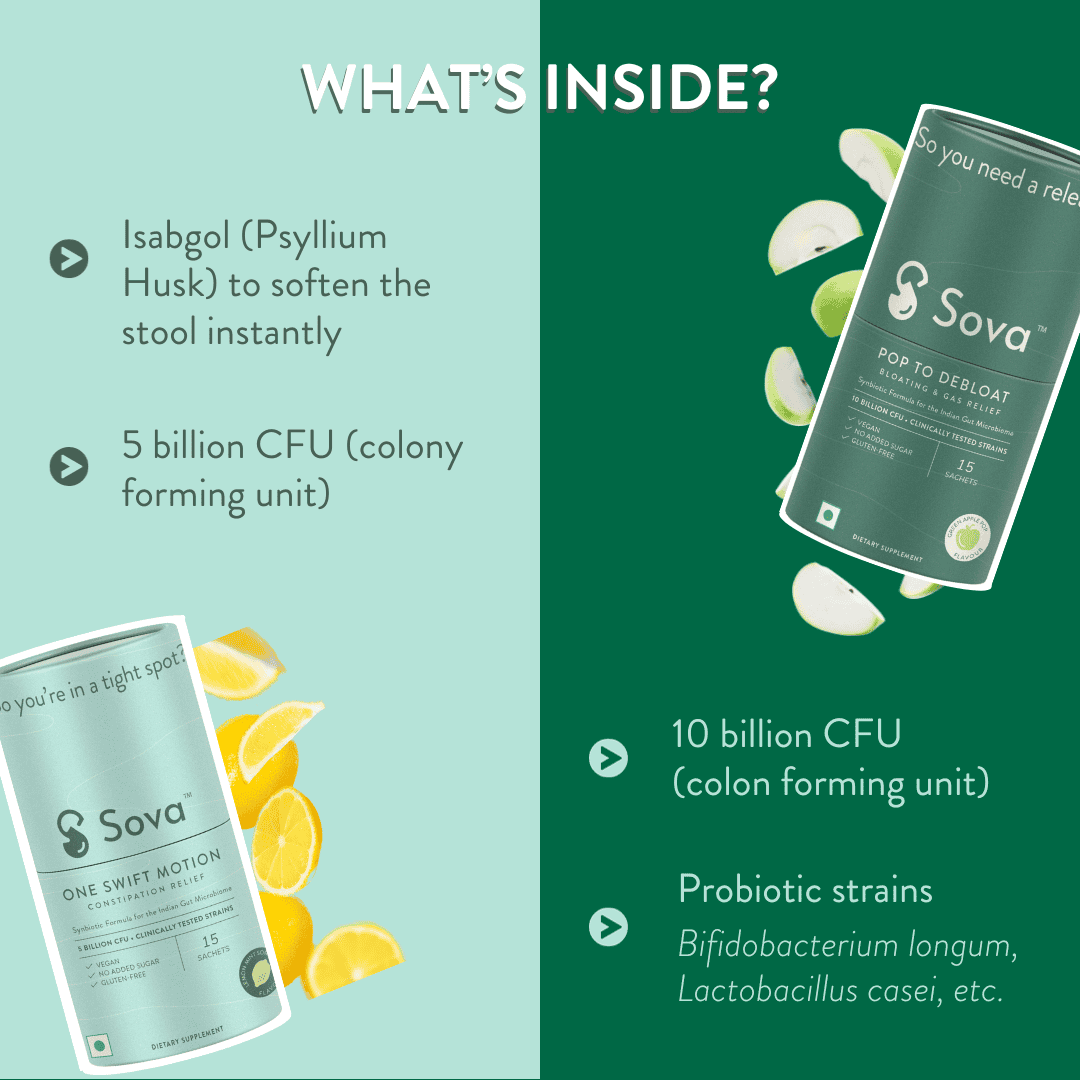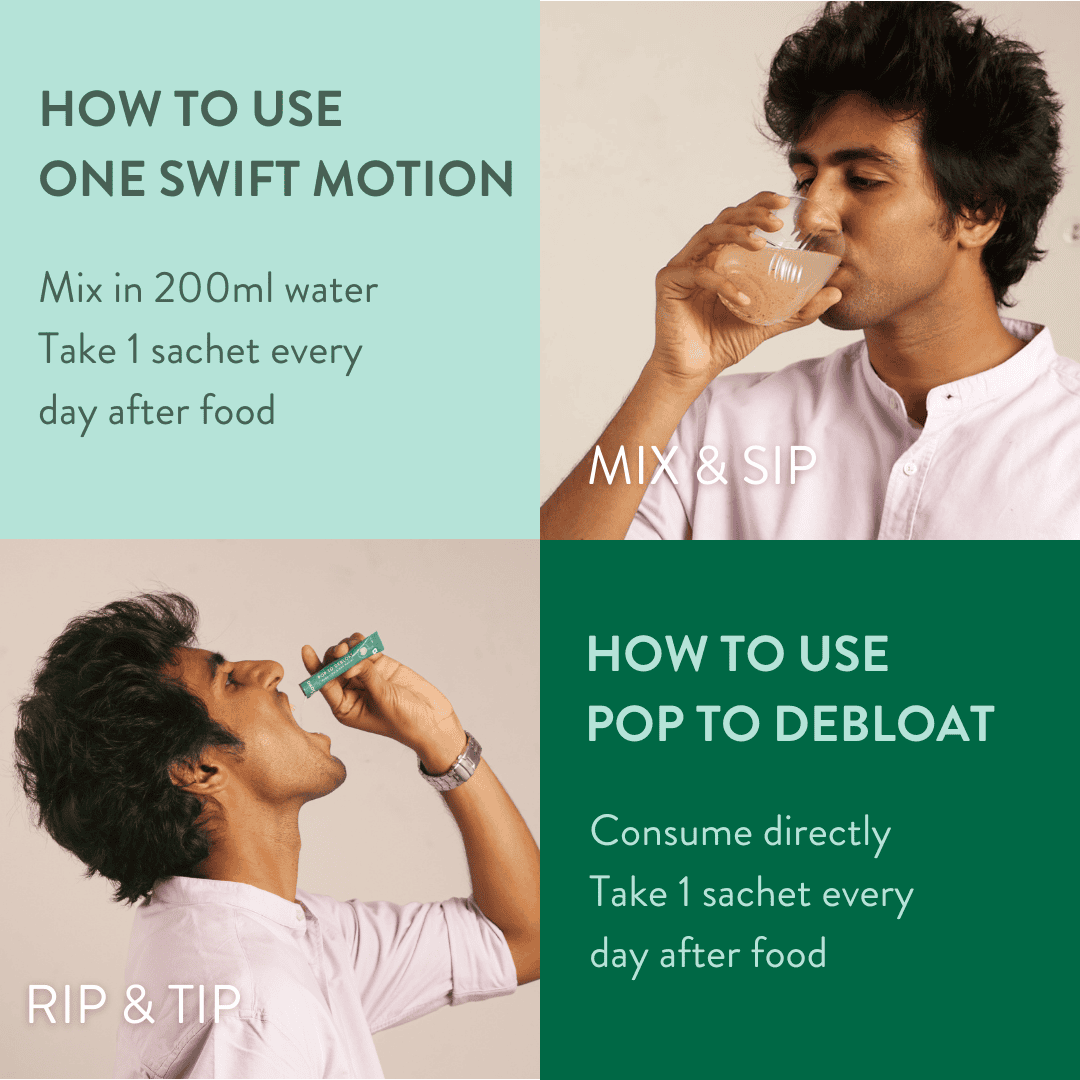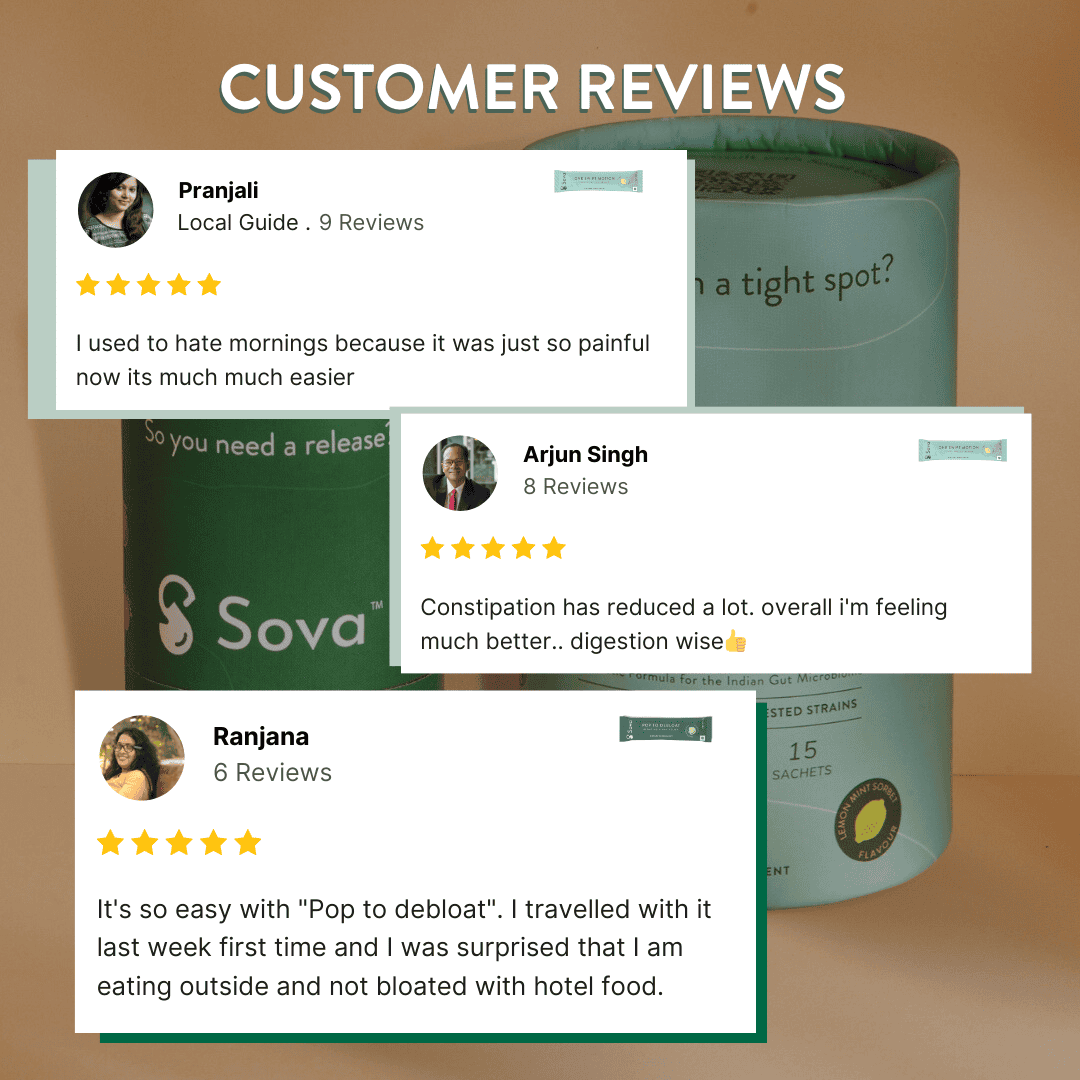 Why this Kit works
Comprehensive Digestive Support: "One Swift Motion" combines Bifidobacterium, Bacillus coagulans, and Bacillus Clausii to enhance gut transit, consistency, and stool frequency for effective constipation relief. Inulin and Psyllium husk further regulate bowel movements for a holistic solution.
Balanced Gut Environment: "Pop to Debloat" features probiotics like Bifidobacterium longum, Lacticaseibacillus rhamnosus, Lactobacillus casei, and Lactobacillus acidophilus to maintain gut balance. They reduce gas production, improve gut motility, and enhance overall digestive comfort.
Natural Bloating Support: Both supplements include Peppermint extract to reduce cramping and bloating. Inulin aids beneficial gut bacteria, aiding digestion and reducing bloating. This combination offers a well-rounded approach to managing digestive discomfort.
How To Use
"Rip and Tip" with Pop To Debloat: Rip open the sachet and consume directly.
"Mix and Sip" with One Swift Motion: Mix 1 sachet in 200ml room temperature water or beverage and sip! Do not mix with very cold or hot liquids
Bacteria colonies take time to build. Use 1 sachet of Pop to Debloat & 1 sachet of One Sift Motion after breakfast for a minimum of 2 months.
TASTE: GREEN APPLE & LEMON MINT
Efficacy of Prebiotics, Probiotics, & Synbiotics in Irritable Bowel Syndrome & Chronic Idiopathic Constipation

Ford, Alexander C., et al. "Efficacy of prebiotics, probiotics, and synbiotics ....

Read More

Effects of Prebiotics and Synbiotics on Functional Constipation

Yu, Ting, et al. "Effects of prebiotics and synbiotics on functional constipation." The American journal of the medical sciences....

Read More

Gut Microbiota and Chronic Constipation: A Review and Update

Ohkusa, Toshifumi, et al. "Gut microbiota and chronic constipation: a review and update."

Frontiers in medicine.........

Read More
Confused? Speak to a Gut Health Expert
Consult a Gut Health Expert to understand which foods and solutions are right for your body.
FAQs
How does "One Swift Motion" and "Pop to Debloat" work to give results?

One Swift Motion" and "Pop to Debloat" are two digestive supplements designed to provide comprehensive support for individuals experiencing bloating, constipation, and digestive discomfort. They contain a blend of probiotics and natural ingredients to help improve gut health and alleviate these symptoms.

Additionally, the kit offers a personalised consultation with an expert, providing tailored guidance on food and supplementation for your specific needs.
Should I take both the supplements together, or separately?

These supplements are designed to complement each other and can be taken together for a comprehensive approach to digestive support. However, it's essential to follow the recommended dosage for each product to avoid overconsumption.
Can it be used long-term for prevention rather than treatment?

All strains in Sova supplements are deemed safe for extended use. Many individuals opt to take digestive supplements such as 'One Swift Motion' and 'Pop to Debloat' preventively to maintain overall gut health and minimize the risk of digestive discomfort. It's recommended to adhere to the suggested dosage for routine maintenance.
Can I change the dosage of the supplements based on my needs?

Sticking to the recommended dosage is wise. For any dosage adjustments, consult a healthcare professional to ensure safe and effective use. Feel free to schedule a consultation with Sova's Gut Health Experts for personalised food and supplement recommendations here.
Can Sova's Supplements be taken with other medication?

Our supplements are safe to consume with medication but it is always best to check with your health care provider.

In the case of antibiotics, taking pre+probiotics together with antibiotics is safe and will not cause any adverse effects. However, antibiotics will drastically reduce the efficacy of probiotics because of their antibacterial properties. It is advisable to start taking the supplements one day after the antibiotics course is over.