Online Gut Health Expert Consultation | Personalized Nutrition & Supplement Recommendation | Customized Health Plan | Medical & Gut Profiling | Root Cause & Symptom Analysis
Regular price
Rs. 799.00
Sale price
Rs. 699.00
Unit price
per
Sale
✔ Expert Diagnosis of Symptom Severity
✔ Nutrition & Supplement Recommendations
✔ Personalised Health Plan
✔ Certified Gut & Nutrition Experts
✔ Clear Solutions Prescribed
✔ Eliminate Gut Dysbiosis Long-term
For Gut Health expertise, turn to Sova Health's specialists:
Max: Chief Science Officer, Geneticist, 10+ years in Gut Health, MSc in Population Genomics.
Gargi: Nutrition Scientist, MSc in Nutrition, 4+ years of experience, leads Nutrition Therapy Programs.
Please Note: Consultation slots are limited and allotted on a first come first serve basis. 

Refund Policy

You are protected by Sova's Refund Policy. Refer to our refund policy for T&C
Share
View full details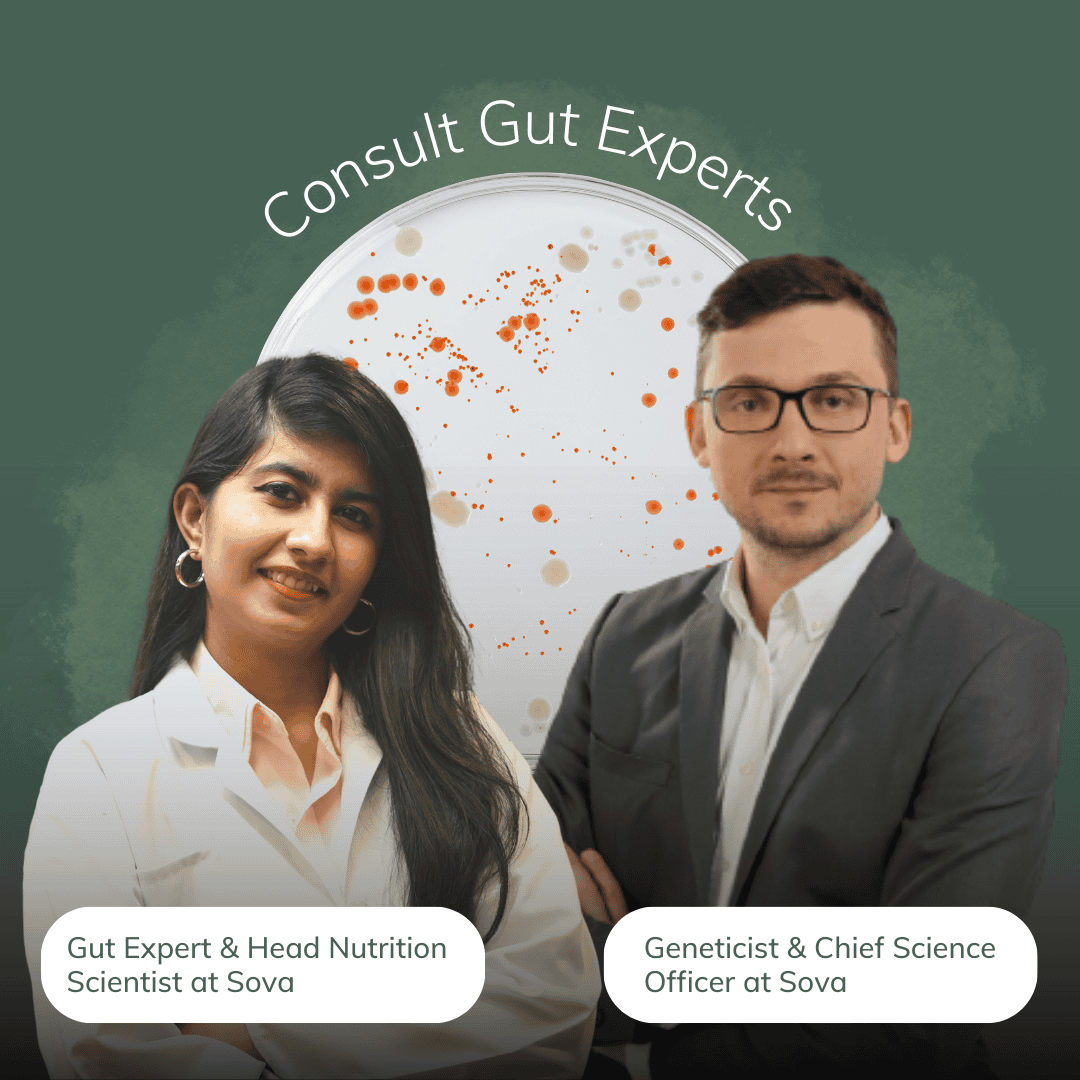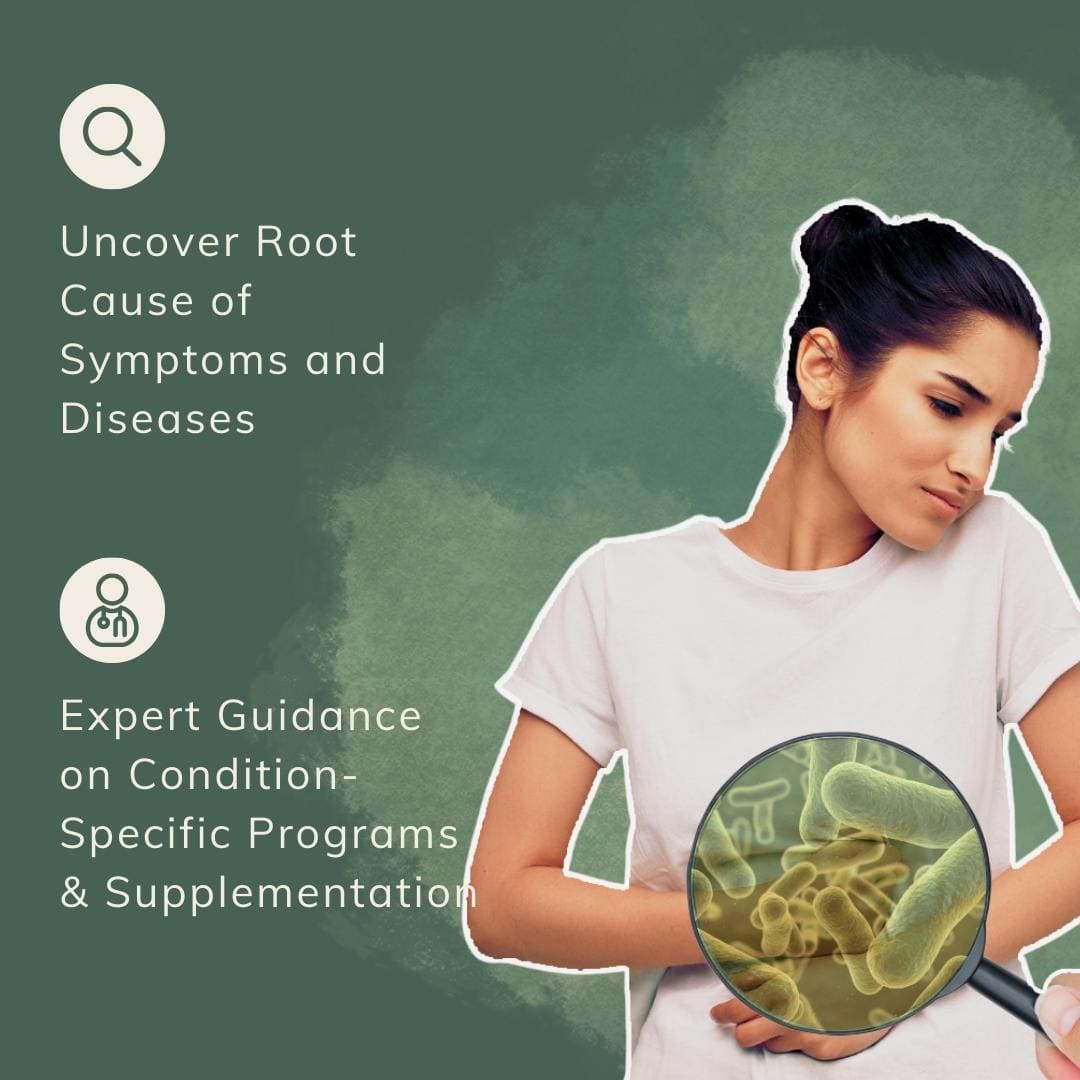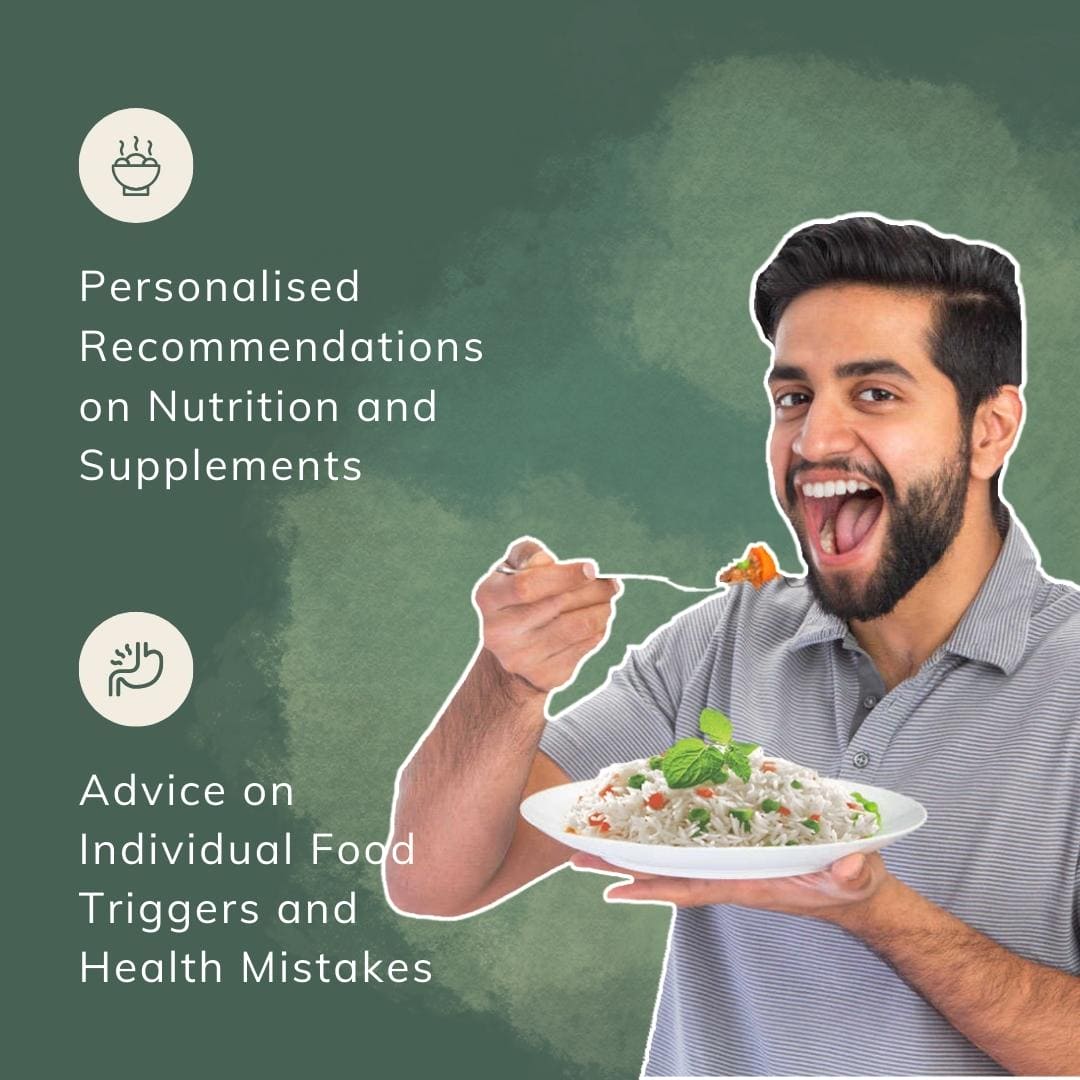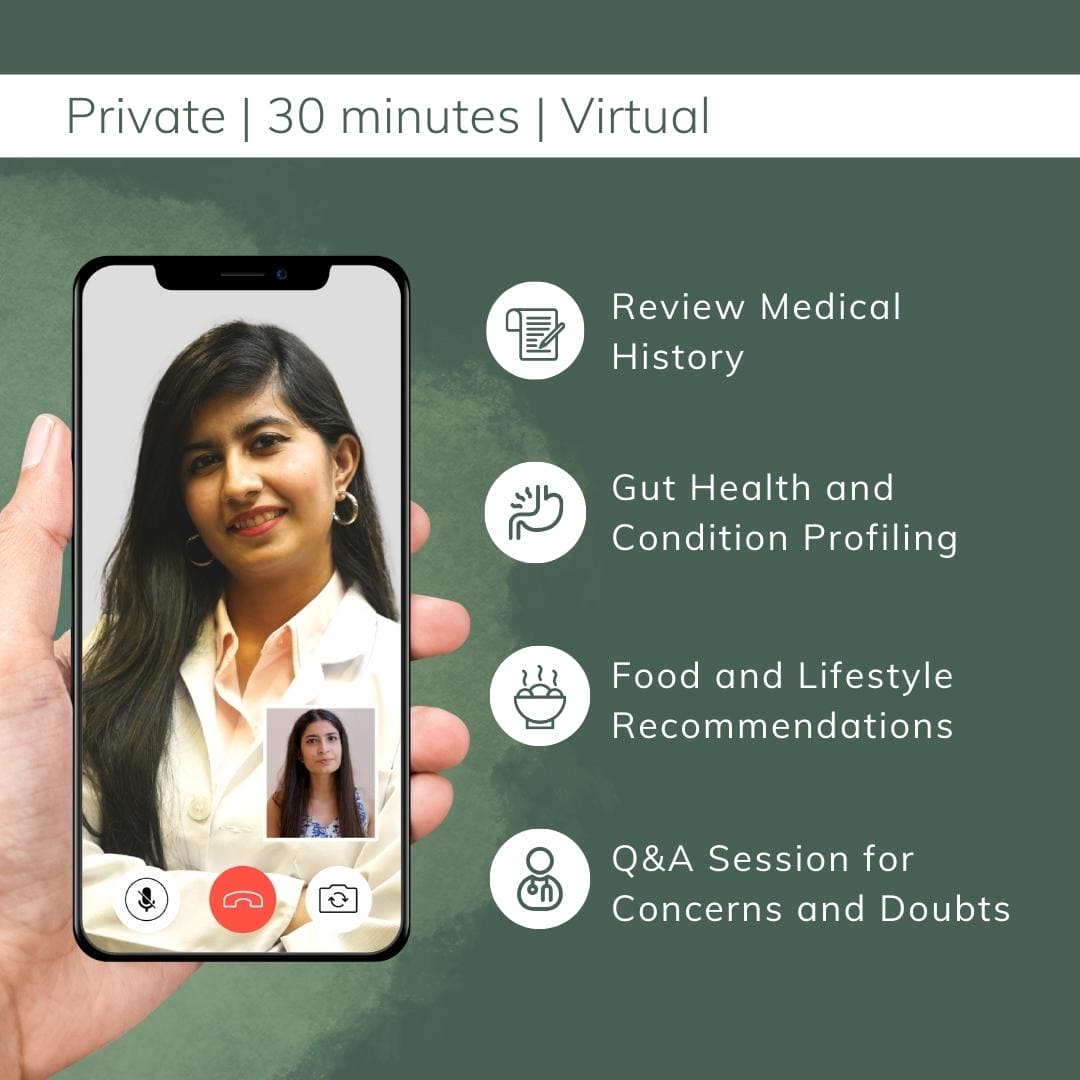 In India, 56% of the population (1 person in every family) suffers from Gut issues. 450 million people have been diagnosed with chronic conditions. We're here to finally shift the narrative from SICKcare to HEALTHcare with a solution that lasts.
Our Team of Medical Experts
Max Kushnir

Co-Founder of Sova Health, Geneticist

MSc (Cancer Genomics)

5+ years of experience

Gargi Sareen

Nutrition Scientist

BSc. Nutrition & Dietetics

2+ years of experience

Dr. Swaramya C

Medical Advisor

M.S. & M.B.B.S.,

Obstetrics & Gynecology
Highgly recommend max!
Appreciate how Max does not sell any lies on the consult for money. He didnt promote any product with me. He said i did not need it. He suggested i try some changes with home food and now feeling better.
I expected meal plans but he doesnt give any
Great experience
Great consultaion..Max was very educated and patient. bought sova's 4 month program after speaking with him.🙌
Sova's expert gave me lot of confidence that i wont have to suffer from symptoms life long. Im on their program now and hoping to finally stop suffering from acidity and indigesion
FAQ
What can I expect during the 30-minute online consultation?

During the consultation, Max Kushnir will decode your gut health condition and review your medical history, test results, and lifestyle habits. He will provide his expert recommendation on your condition, offer primary guidance on how nutrition and lifestyle habits impact gut health, counsel you on the appropriate course of action for your health journey, and suggest personalized dietary and lifestyle adjustments. The Gut Health Consultation is designed to help you explore the underlying factors contributing to various digestive issues and health concerns such as acid reflux, bloating, IBS, constipation, diarrhea, weight gain, sleep disturbances, stress-related concerns, acne, hair fall, and more. It aims to determine if your issue requires medical intervention or can be resolved through expert dietary changes and lifestyle modifications.
Are there specific prerequisites or information I need to prepare before the consultation?

It's helpful to gather your medical history, test results, reports, and any previous doctor recommendations to facilitate a comprehensive discussion during the consultation. However, it's not mandatory.
How do I access the online consultation platform with Max Kushnir or Gargi?

Once you've booked a consultation, you will receive instructions on when, where and how to join the consultation from Sova's care team. If you have any questions you can reach to Sova support at support@sova.health.
What types of digestive issues can be addressed in this consultation?

The consultation is designed to address a wide range of digestive issues, including but not limited to acid reflux, bloating, IBS, constipation, diarrhea, weight gain, sleep disturbances, stress-related concerns, acne, and hair fall.
Can I get guidance on improving my overall health and well-being, not just gut health, during the consultation?

While the primary focus is on gut health, you can certainly discuss how gut health is connected to overall well-being. Max Kushnir and Gargi can provide guidance on aspects of health beyond just digestive issues.
Is this consultation suitable for individuals of all ages, including children and the elderly?

The consultation can be suitable for individuals of all age groups.
What is the cost of the consultation, and are there any additional fees or hidden charges?

The cost of the consultation is typically INR 799. There are no additional costs or fees for the consultation.
What if I have technical issues during the online consultation?

If you encounter technical issues, you can reach out to Sova Health's customer support for assistance, and they will guide you on resolving the problem to ensure a smooth consultation experience.
How will I receive the expert's recommendations and action plan after the consultation?

Your Gut Expert will provide you the e-prescription (consultation summary) with their recommendations and action plan as discussed during the consultation. Generally you will receive a summary 24 hours afterwards via email/whatsapp group.