Sustainable Weight Loss | Reduce Inches | Optimise Muscle-to-Fat Ratio | Expert Food Recommendations | Weekly Certified Nutritionist Consults & Daily Monitoring
Regular price
Rs. 4,999.00
Regular price
Sale price
Rs. 4,999.00
Unit price
per
Sale
Aim to Shed up to 3 Kgs and 2 Inches in 30 Days

Achieve Intensive Weight Loss and Plateau Breakthrough: Leverage Microbiome Analysis for breakthrough results.
Targeted Exercises to Overcome Plateaus: Concentrate on substantial weight loss and tackle those stubborn plateaus head-on.
Personalised Food Recommendations and Diet Plan: Receive personalized food recommendations and a tailored diet plan guided by Certified Nutrition Coaches throughout your 30-day to 4-month journeys
Expert-Guided Nutrition Therapy for Long-lasting Results

Long-Lasting Results: Traditional diets often overlook the role of your gut microbiome in weight management. We offer a science-backed, long-term solution.
Optimize Muscle-to-Fat Ratio: Shift your focus towards a balanced muscle-to-fat ratio, a key to sustainable and enduring weight management.
Restore Gut Balance to Maintain Optimal BMI

Gut Microbiome Optimization: Short-Chain Fatty Acid (SCFA) production bacteria are essential for breaking down nutrients efficiently.
Healthy Weight Maintenance: By optimizing your gut microbiome, we help you reach and maintain your optimal BMI for a healthier and happier you.
Are you tired of the never-ending cycle of dieting and weight gain? Frustrated by those stubborn extra kilos that just won't seem to budge? It's time to shift your focus to a groundbreaking approach – a Gut-Focused Weight Loss Program.
Refund Policy

You are protected by Sova's Refund Policy. Refer to our refund policy for T&C
Share
View full details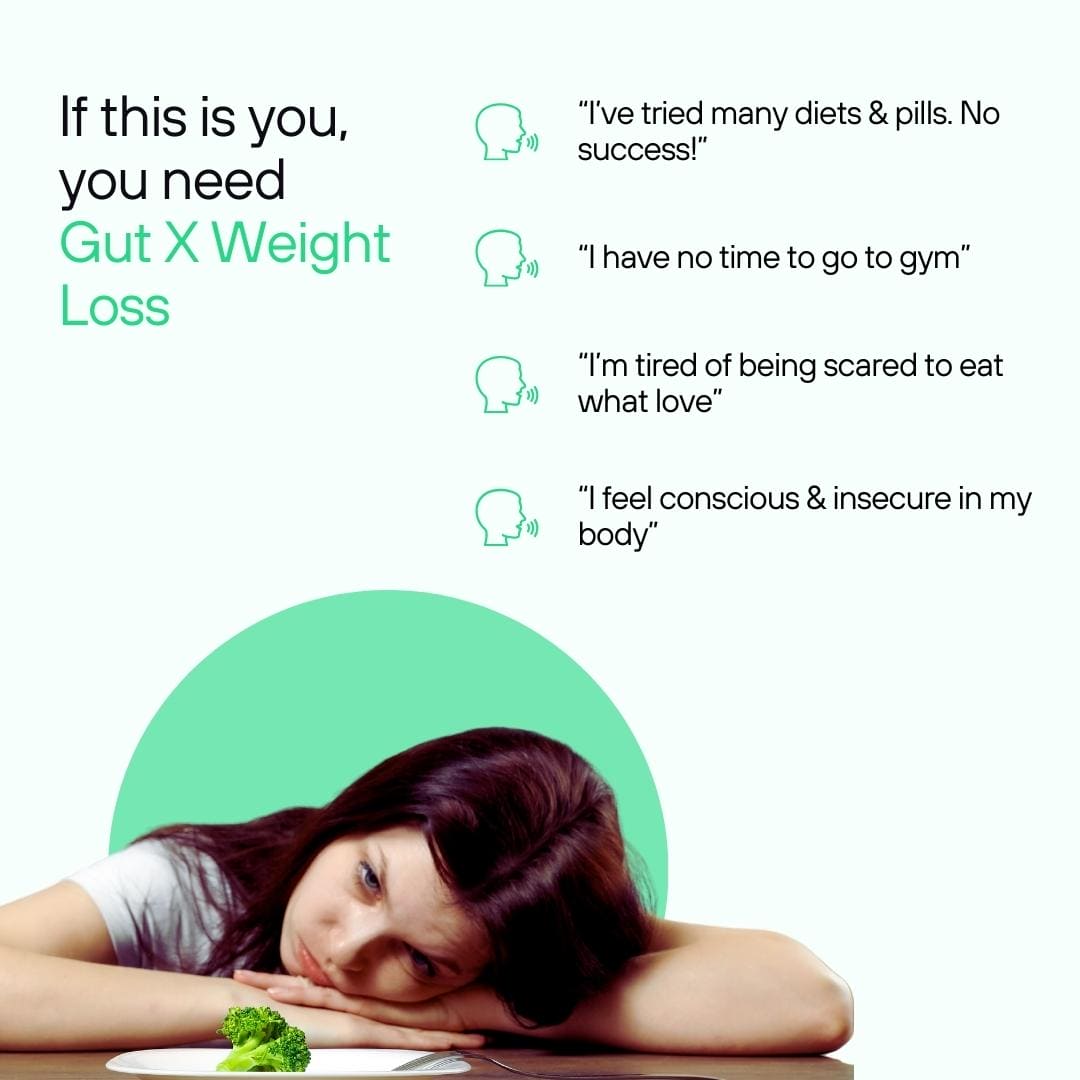 Got Questions?
Connect with Sova's Gut Heal Program Consultant first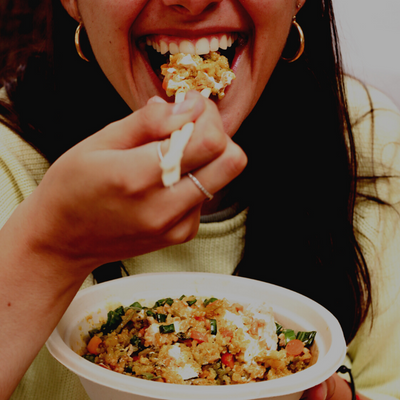 Coach Only - 30 Day Program
What To Expect:
Day 0-8: Initiation Phase
In-Depth Assessment: We collect your age, medical history, diet preferences, and exercise routine for customized coaching.
Increase Fiber Intake
Improve Hydration
Set Daily Step Goals
Begin Tracking Food Choices
Day 8-16: Kickstart Phase
Receive Your Personalised Nutrition Plan
Meal Plans Aligned with Your Needs
Right Portion Sizes
Recommended Foods for Your Goals
Days 16 - 24: Personalisation Phase
Regular Progress Assessments
Adjustments Based on Your Feedback and Results
Access Nutrition Education Resources for Mindful Eating
Day 24-30: Progress Evaluation Phase
Evaluate Your Achievements
Receive Strategies for Sustaining Your Results as You Complete the Program
Test + Coach - 4 Month Program
Month 1: Discovery Phase
Foundation Building and Habit Formation
Focus on Portion Sizes
Establish Sustainable Habits
Introduction to Gentle Exercise
Expected Weight Loss: Approximately 1kg
Expected Waist Reduction: Approximately ½ Inch
Optional Weight Loss Supplements
Month 2: Transformational Phase
Intensive Weight Loss and Plateau Breakthrough via Microbiome Analysis
Microbiome Analysis and Expert Consultation
Probiotic Supplements Tailored to Microbiome
Concentrate on Significant Weight Loss and Plateau Breakthrough
Targeted Exercises for Weight Loss
Aim for Weight Loss: 2-4kgs
Actionable Dietary Recommendations Based on Personalized Microbiome Report
Enhance Short-Chain Fatty Acid (SCFA) Production for Efficient Nutrient Digestion
Month 3: Optimisation Phase
Rejuvenate Your Gut for Optimal BMI
Weekly Diets Focused on Macro-Nutrients and Fat Loss
Harness the Power of Your Microbiome for Lasting Health and Happiness at Your Optimal BMI
Prepare Your Body for Muscle Gain While Losing an Additional 2-4kgs
Month 4: Culmination Phase
Muscle Building & Long-Term Weight Management
Shift Focus to Muscle Building
Reach and Maintain Your Optimal BMI for a Healthier, Happier You
Got questions? Consult a Gut Expert
Book a consultation with Sova's Gut Health Expert and Chief Science Officer Max Kushnir to get expert recommendations on your condition and which course of action is right for you.
Our Team of Medical Experts
Max Kushnir

Co-Founder of Sova Health, Geneticist

MSc (Cancer Genomics)

5+ years of experience

Gargi Sareen

Nutrition Scientist

BSc. Nutrition & Dietetics

2+ years of experience

Dr. Swaramya C

Medical Advisor

M.S. & M.B.B.S.,

Obstetrics & Gynecology
FAQ
I have questions. Can I get a free consultation first?

Yes! Book a consultation with Sova's GutHeal Program Consultant here.
What makes Gut x Weight Loss different from traditional diets and other weight loss plans?

Our program is truly unique. While traditional diets often fall short by overlooking the role of the gut microbiome in weight management, we prioritize addressing the root cause of weight gain. We provide a science-backed, long-term solution for sustainable weight loss, aligning our commitment with your dedication.

Did you know that Short-Chain Fatty Acid (SCFA) production bacteria are crucial in breaking down carbohydrates, proteins, and fats? Through optimizing your gut microbiome, we enhance your body's ability to efficiently extract nutrients and maintain a healthy weight.

Our program empowers you to unlock the full potential of your gut microbiome, achieve your weight loss goals, and embrace a healthier, happier you.
Is exercise a requirement in this program?

While we encourage exercise for a holistic approach, we adapt the program to your fitness level and preferences.
How does gut health relate to weight loss?

Gut health plays a crucial role in weight management. An imbalanced gut can affect your metabolism, appetite, and nutrient absorption, making it harder to lose weight. This program addresses these factors to enhance your weight loss journey.
Is this program suitable for people with dietary restrictions (eg: vegan/jain)

Yes, our program is adaptable to accommodate a wide range of dietary preferences and restrictions, including Vegetarian, Jain, Gluten-Free, Diary-Free and Vegan diets.

Your personalised nutrition plan will be crafted to align with your specific dietary choices, ensuring that you can effectively reach your health and weight management goals while following your preferred dietary path.
Who will be incharge of my health?

Our team comprises highly qualified Doctors, Clinical Nutrition Scientists, specialists, and experts dedicated to guiding you through your Gut Health plan. Visit our 'About Us' section to learn more about our accomplished team.