Recommended for PCOS Symptoms of Bloating & Weight Gain | Masterclass by Coach Urmi | 60 Vegan Sachets for Men & Women
Regular price
Rs. 1,799.00
Regular price
Rs. 3,095.00
Sale price
Rs. 1,799.00
Unit price
per
Sale
Leverage the Gut-PCOS Connection

Gut microbes can influence hormones, weight gain and digestion.

Our kit's prebiotics and probiotics balance the gut microbiome to help improve digestion, balance hormones, aid weight loss and reduce inflammation — all integral to effective PCOS management.
Banish Period and Meal Bloat

Tackle uncomfortable PCOS bloating with our probiotics. Prebiotics and probiotics in this kit promote a healthier gut environment, offering potential relief from one of PCOS's most bothersome symptoms.
Weight Control and Cravings in Check

Research suggests that prebiotics and probiotics aid weight management for individuals with PCOS. Our supplements support your journey towards a healthier weight by helping you metabolise fat and control cravings.
PCOS MasterClass & Movement with Coach Urmi

Unlock the benefits of movement with a virtual masterclass with Coach Urmi, who will guide you on the 11 thumb rules for lifelong fitness and show optimal body movement for controlling PCOS.

Additionally, get a FREE PCOS Power Juice Recipe and exclusive access to the Kinetic Living Weekly Newsletter.
Ready to take charge of your PCOS journey? Our PCOS Power Kit ft Coach Urmi empowers you to tackle symptoms head-on. This all-inclusive bundle includes Sova's potent probiotic supplements, "Pop To Debloat" and "Metabolic Fuel," plus a virtual training session with Functional Fitness Trainer Urmi Kothari.
Share
View full details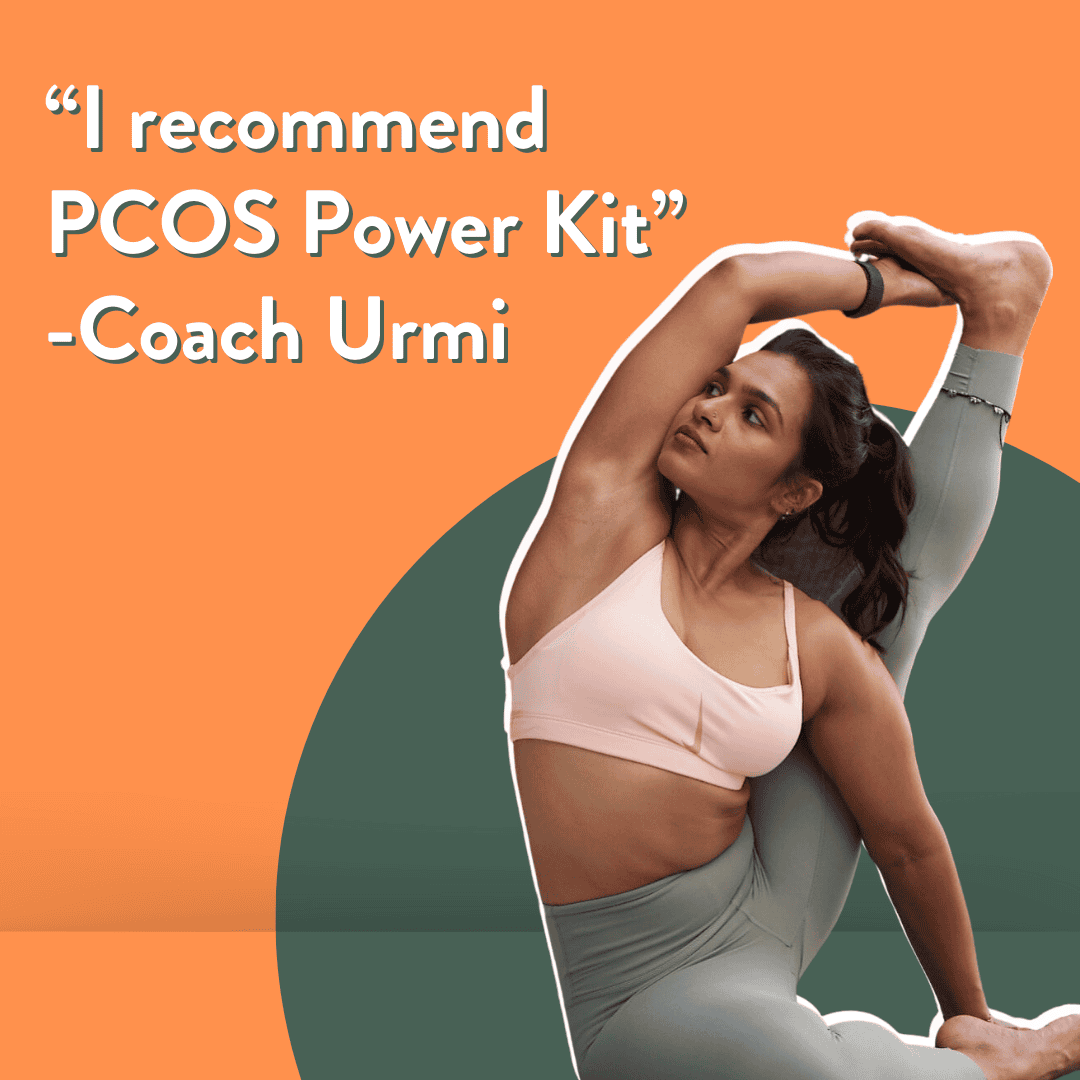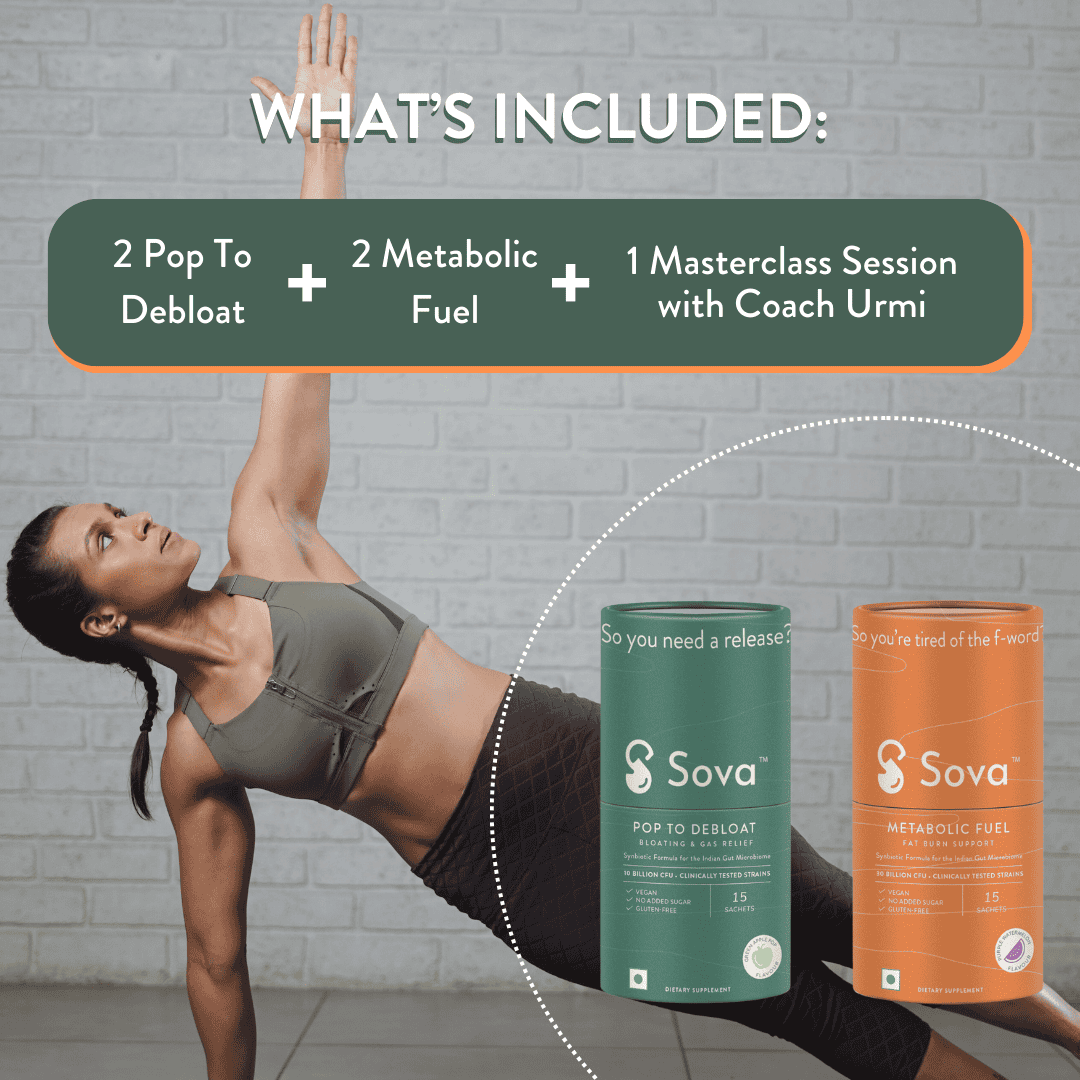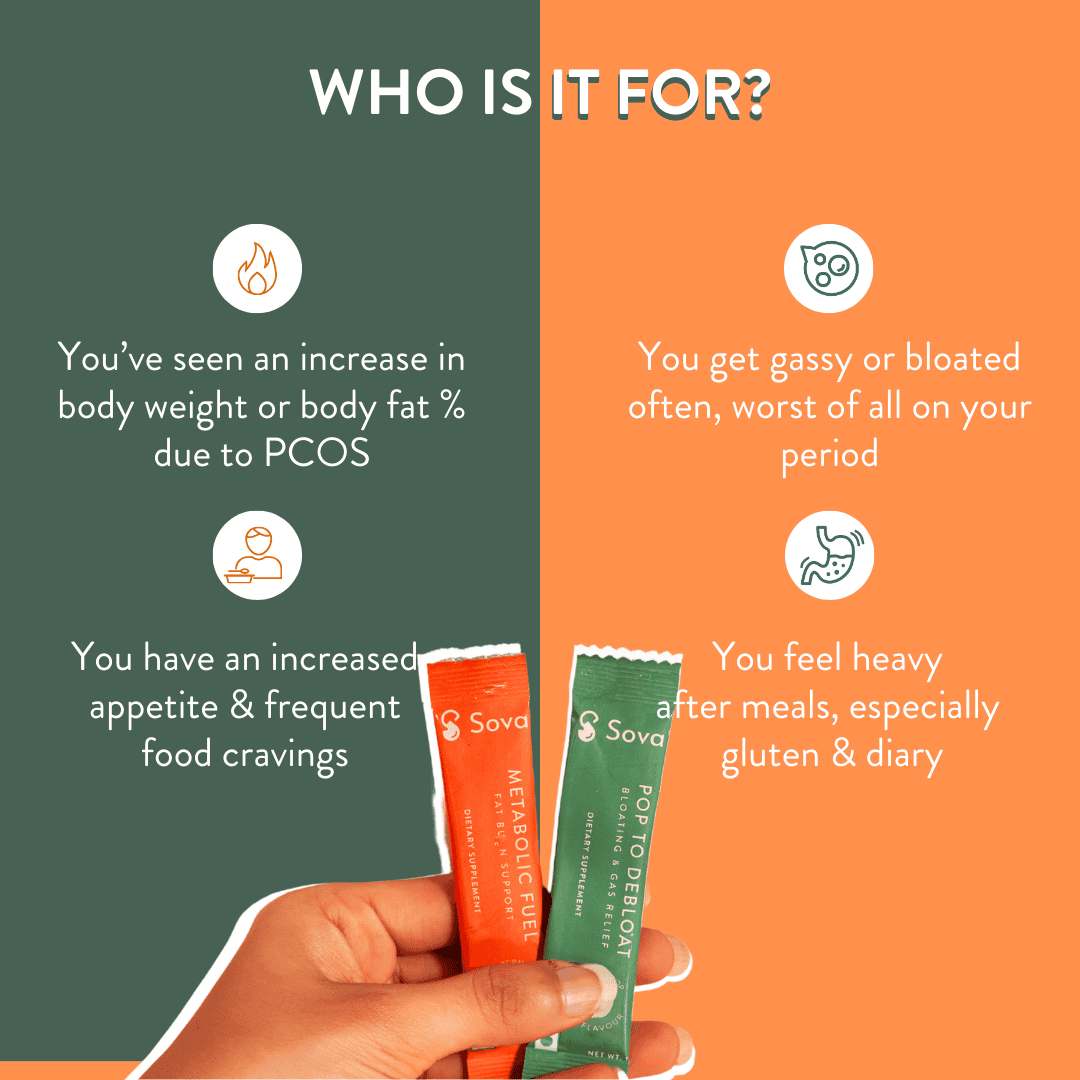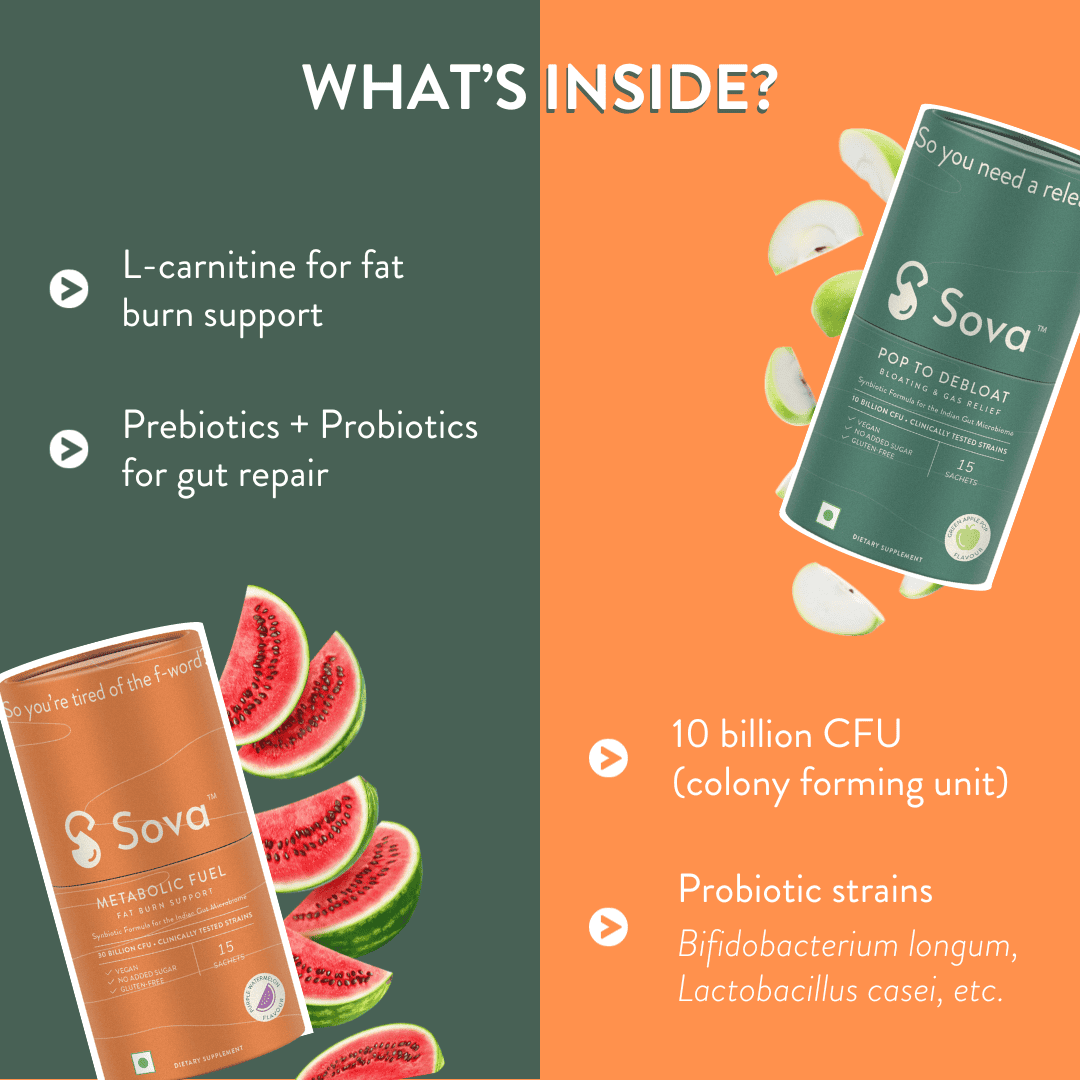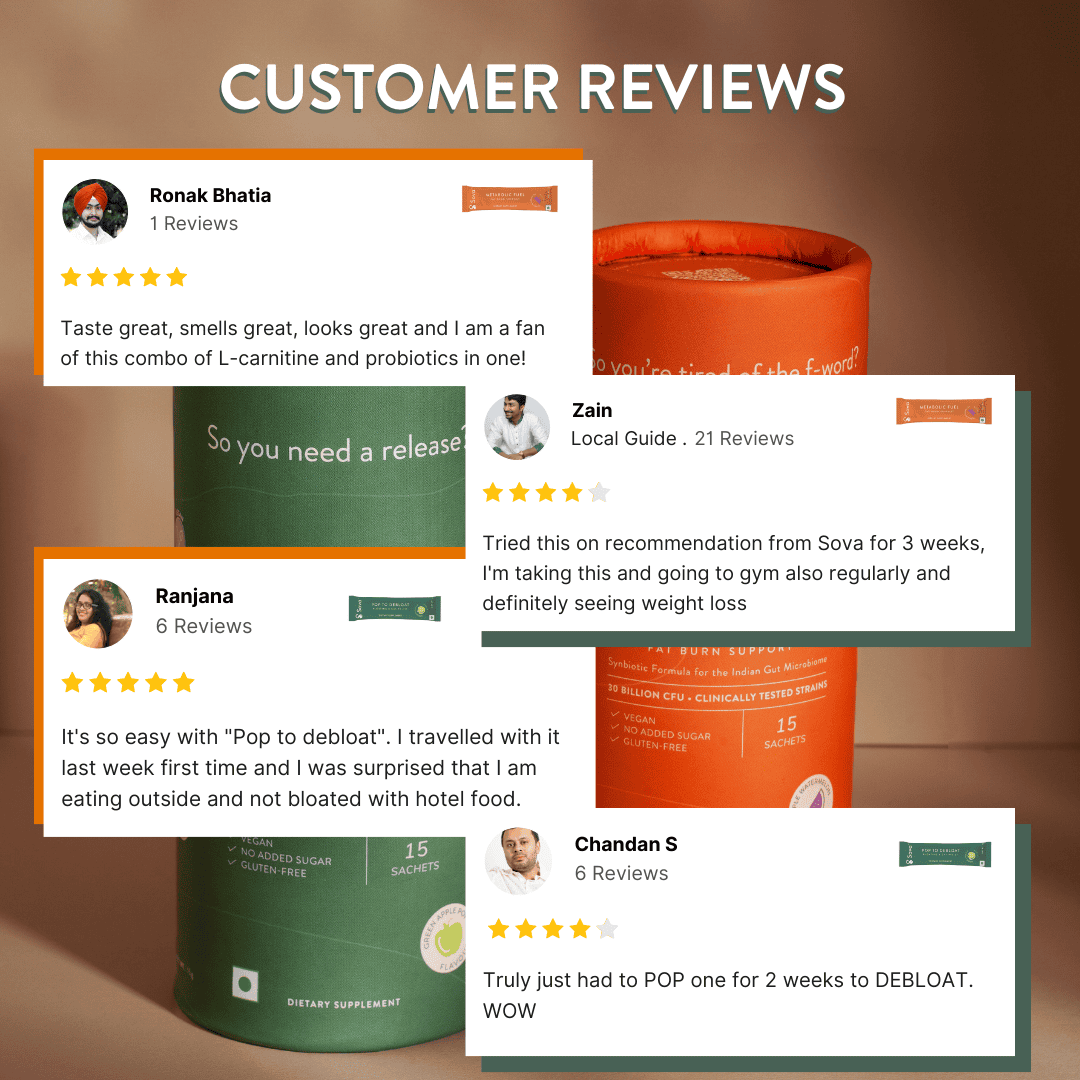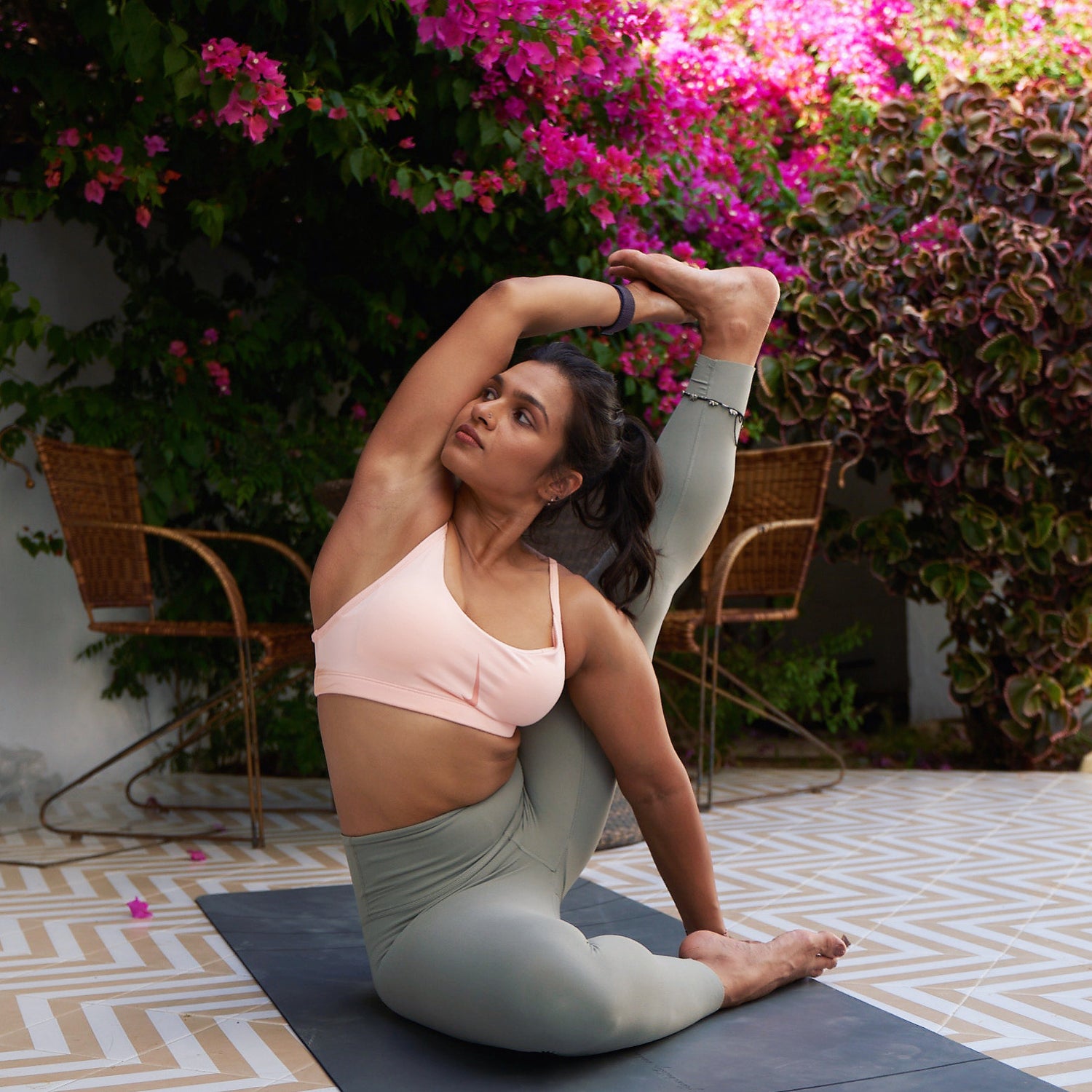 Message from Coach Urmi
"PCOS didn't stop me; it inspired me. From battling weight gain and insecurity to becoming Mumbai's first Nike Coach and Trainers' Trainer in Functional Training, I know you can conquer PCOS too. With the right tools, guidance, and mindset, your journey is within reach." - Urmi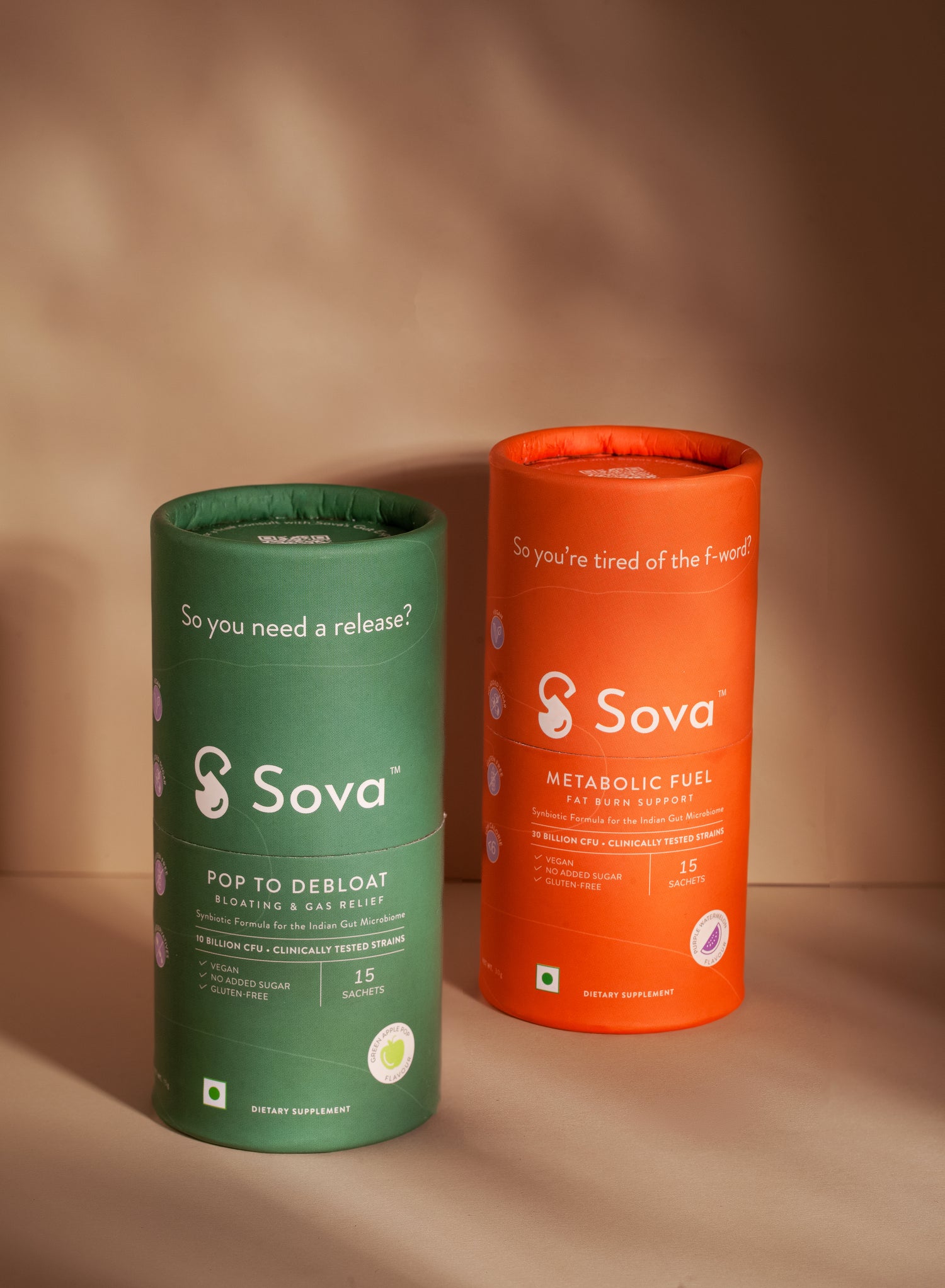 The Science Inside
Holistic PCOS Management
Our PCOS Bundle takes a comprehensive approach, targeting the root causes of common issues like bloating, weight gain, and IBS.
Research shows promising potential for prebiotics and probiotics to enhance gut health, improve weight management, and elevate your overall well-being.
Synergistic Probiotic Blend
"Pop to Debloat" and "Metabolic Fuel" unite in perfect harmony. "Pop to Debloat" focuses on optimizing gut health, reducing inflammation, and enhancing digestion. Meanwhile, "Metabolic Fuel" is laser-focused on supporting weight management and metabolism.
Together, these two create a powerful synergy, amplifying the benefits for your PCOS journey with the backing of scientific research.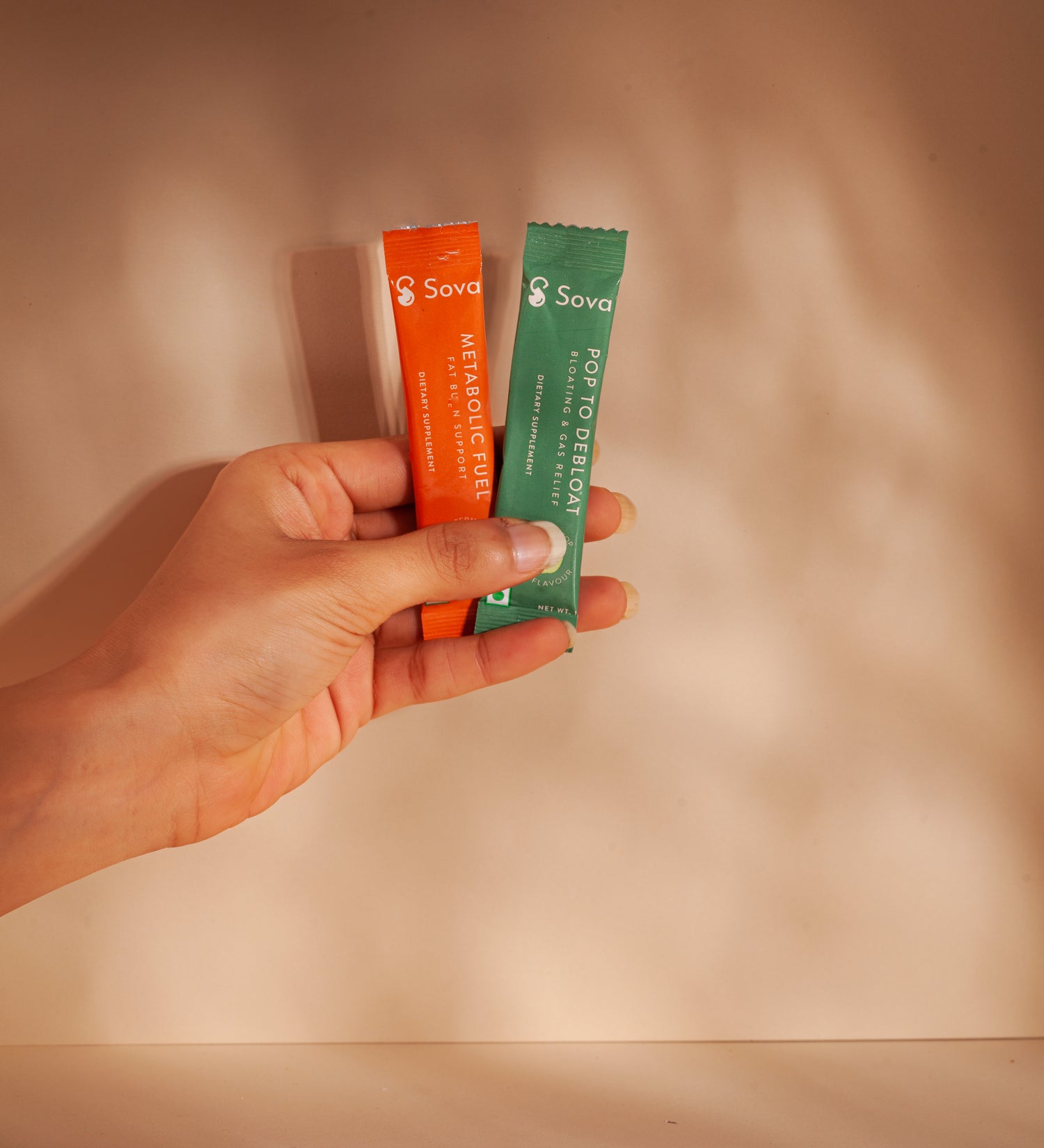 How To Use
METABOLIC FUEL: "Mix and Sip": Mix 1 sachet in 200ml room temperature water or beverage and sip! Do not mix with very cold or hot liquids
POP TO DEBLOAT: "Rip and Tip": Open the sachets and tip the powder into your mouth directly. No water needed!
Two-Week Regimen: To experience the full benefits, it's recommended to use this combo coupled with movement for a minimum of 14 days. This duration allows the beneficial bacteria to establish themselves in the gut and create a lasting impact.
TASTE: GREEN APPLE + WATERMELON
Effects of probiotics, prebiotics, and synbiotics on polycystic ovary syndrome

Polycystic ovary syndrome (PCOS) is among the most prevalent endocrine disorders in women and can lead to many other disorders and chronic diseases....

A New Approach to Polycystic Ovary Syndrome: The Gut Microbiota

Polycystic ovary syndrome (PCOS) is a widespread endocrine disease that affects 6% to 20% of women of reproductive age and is associated with high risk of infertility, obesity....

Association between Polycystic Ovary Syndrome and Gut Microbiota

Polycystic ovary syndrome (PCOS) is the most frequent endocrinopathy in women of reproductive age. It is difficult to treat PCOS because of its complex etiology....
FAQs
How does the PCOS Power Kit tackle common PCOS symptoms?

The PCOS Kit comprises two supplements and a masterclass, providing a holistic approach to tackling various aspects of Polycystic Ovary Syndrome (PCOS). The probiotic-rich bloating supplement supports digestive health, while the metabolic fuel supplement enhances metabolism and overall well-being.

While this addresses Nutrition & Gut Health, Coach Urmi's masterclass provides guidance on movement to help control symptoms and enhance well-being
What does the PCOS Power Kit offer for the cost of 1?

2 packs of Pop Top Debloat (Value: ₹1189): This product is specifically crafted to address the discomfort of bloating, a common issue for those with PCOS. It aids in reducing bloating, promoting better digestive comfort and overall well-being.
2 packs of Metabolic Fuel (Value: ₹1899): Metabolic Fuel is a valuable dietary supplement within the kit, intended to assist in regulating metabolic processes. Individuals with PCOS often struggle with metabolic irregularities, and this product is designed to help in this aspect.
PCOS MasterClass with Fitness Trainer Urmi Kothari (Value: ₹699): As part of the PCOS Power Kit, you will receive a virtual masterclass with the experienced fitness trainer Urmi Kothari. Regular movement is known to have significant benefits for individuals with PCOS, and this session is aimed at improving your understanding of fitness and overall health.
How can I get more details on the workout session with Coach Urmi?

Once you've completed your purchase, you will receive an alert regarding your auto-registration for the workout class via email and WhatsApp.

Additional information, including the exact session time, preparation instructions, and other details, will be provided closer to the date of the session via WhatsApp and email. Be sure to keep an eye on your email and WhatsApp messages for updates and instructions as the session date approaches.
Can Sova's Supplements be taken with other medication?

Our supplements are safe to consume with medication but it is always best to check with your health care provider.

In the case of antibiotics, taking pre+probiotics together with antibiotics is safe and will not cause any adverse effects. However, antibiotics will drastically reduce the efficacy of probiotics because of their antibacterial properties. It is advisable to start taking the supplements one day after the antibiotics course is over.
Can I use the PCOS Kit preventively, even if I don't have PCOS?

While these supplements are designed to address PCOS concerns, they can certainly be utilized preventively to promote overall gut and metabolic health.

A balanced gut microbiome and metabolic support are advantageous for overall well-being.
Should I take both supplements together, or separately?

Unless recommended otherwise, you can take both supplements simultaneously.

Doing so will offer a holistic approach to addressing gut health and metabolic issues related to PCOS. If you have any concerns about taking them together, it's advisable to consult a healthcare professional for tailored advice.